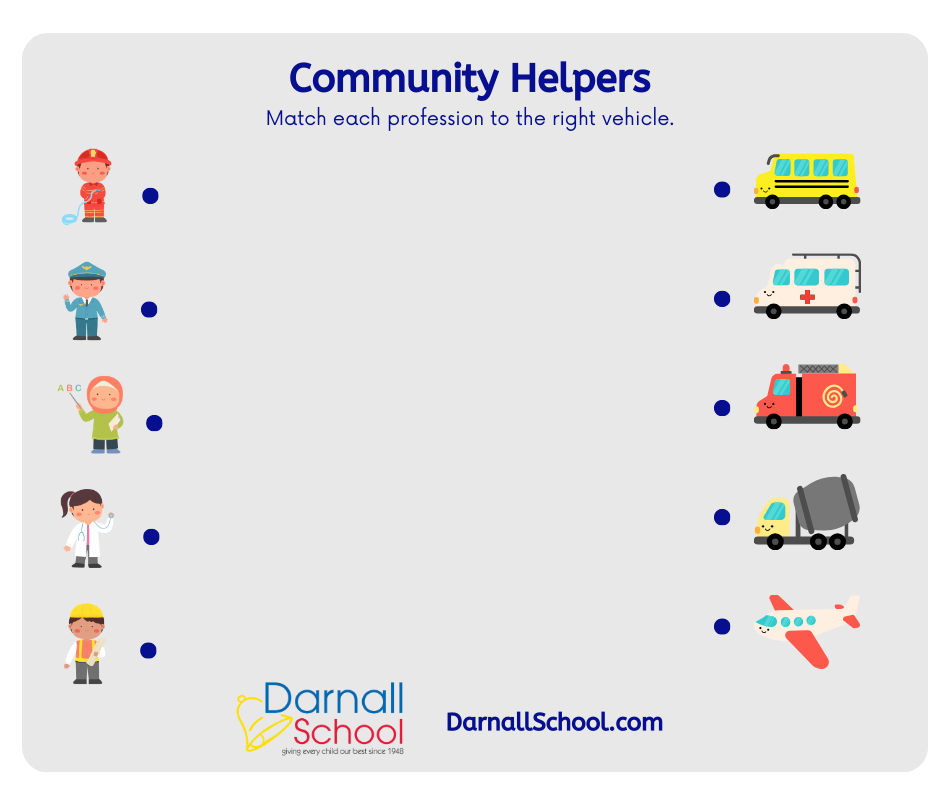 👩‍🚒👮‍♀️🚑

Calling all Little Heroes at Darnall School Day Care!

🌆🌟

Get ready for an exciting and enlightening week as we embark on a journey into the world of "Community Helpers." This week's theme is all about celebrating the remarkable individuals who work tirelessly to make our community thrive, from firefighters and police officers to doctors and farmers. 🚒👮‍♂️👩‍⚕️

But that's not all – there's an extra dose of excitement in the air! 💌 Our letter of the week is none other than the letter "C." This vibrant letter is teeming with creativity, curiosity, and countless captivating possibilities. Whether we're crafting, cooking, or curiously exploring creatures around us, we're diving headfirst into the realm of "C" with boundless enthusiasm and energy. 🎨🧁🐦
Activities you can do at home:
Parents and guardians, you can extend the learning and excitement of this week's theme and letter even beyond our school walls! Here are a few engaging activities your little ones can try at home to further enhance their understanding of community helpers and the letter "C":
**Create a Community Helpers Collage:** Gather magazines, newspapers, or printouts, and have your child cut out pictures of various community helpers. Encourage them to arrange these pictures on a poster board to create a colorful and informative collage.

**Cooking Adventure:** Explore the culinary world by making a favorite dish that starts with the letter "C." Think about cookies, cupcakes, or even a colorful salad. While cooking, talk about how community helpers like chefs play a role in our lives.

**Community Helper Dress-Up:** Have a dress-up day where your child can choose to dress up as their favorite community helper. It's a great opportunity to discuss the important roles these individuals play in our community.

**Crafty "C" Creations:** Engage in some creative crafting time by making crafts related to the letter "C." This could be anything from crafting a colorful caterpillar to creating a construction paper collage.

**Community Helper Story Time:** Read books together that feature community helpers as characters. Discuss the different jobs they do and how they contribute to the community's well-being.
As we dive into this week's theme and the letter "C," let's celebrate the dedication of our community helpers and ignite our curiosity through captivating activities. Together, we're nurturing a sense of belonging and an eagerness to explore the world around us.
Let's make this week's learning adventure one to remember as we celebrate our community and embrace the wonderful world of "C"! 🌟🏘️
#CommunityHeroesWeek #LetterOfTheWeek #DarnallDayCare #LearningThroughPlay
A few worksheets you can download to color or use as learning tools